We Implement Point of Sale Systems for Retail & Restaurants and Service-Based Businesses in Uganda and Globally. Ideal POS Systems for your Business. We offer Efficient, User-friendly & Highly Affordable Point of Sale Software/Hardware for Retail, and Supermarkets & Restaurants/Bars in Kenya. Our POS Systems are built for Desktop, Mobile & Cloud. Call Today!
POS Systems is Point of Sale Software that meets the unique needs of small and medium enterprises in Uganda and other developing countries. It is easy to use and efficient POS system that can be deployed locally or on the cloud. Accept Cash, Mobile Payments (Mobile money, etc).  Access your data and reports easily. Whether you are a Big supermarket or Retailer,  POS Systems is the choice for you. Point of sale (pos) also has an online Dashboard to enable you to access your Business data from anywhere
Pos System is ideal for Supermarkets, minimarts, cosmetic shops, Groceries Electronic shops, Electrical & Hardware Shops, Wine and Spirits Shops, and Wholesalers
Detailed Features (POS Systems)
Product Features (POS Systems)
Easy to Install & intuitive user interface

Customize Currency, Logo, Units of Measure, Taxes
Touch Screen & Keyboard Interface
Easy Backup and restoration

Sales Module

Customer Management, Quick Sale Mode, Sell to Existing Customer or Add New Customer on the Fly,
 Hold and Resume Sale, Barcode Scan Mode or Product Search Mode,
Automatic Receipt Printing, Cash Register Operations: Open, Close, Additions, Removals, and End of Day Reconciliation.
Retail Mode/ Supermarket Mode/ Wholesale Mode.
Accept Multiple Payments: Cash, Card, Mobile (Mobile Money) or Cheque and Auto Record Payment Details.

Product Management

Product Management,
Product Images, Title Description
Barcode, Labels & Price Sticker Generation and Printing.
Shelve Label Printing

Staff Management

Use management and access control levels with 5 Levels: Cashier, Supervisor, Accountant  & Store Manager

Inventory Management

Perpetual Inventory System (Pos System)
Multiple Inventory Location: (Store & Shop)
Reorder Level Monitoring,
Goods Returns, Credit Notes
Batch Pricing Now Supported. FIFO Inventory Management Method and Batch Pricing to track changes in Buying / Selling Price and accurate reporting of profits
Monitoring of expiry date: The batch Monitoring tool will also track the expiring date for items like
medicine and food with an expiry date to inform you if you have any expiring products

Purchase Order Module

Purchase order workflow: Create Order, Commit/Approve Order, Issue
Order, Receive Items, Generate Goods Received Notes and System Approvals
 Invoice, Quotation & Purchase Order Generation.

Supplier Management,

Add  Edit Supplier
Link Supplier to Product
Purchase Return

Accounts

Accounts Payable
Accounts Receivable
Expense Management

Reports

Daily/ Periodic Sales Report Per Invoice and Per Staff, Graphical Report, Payment Reports ,
Profit and Loss Statements

Payments Integration
Tax Configuration / Tax Compliance

, Integrated to EFD from all Tax Authorities in  Uganda &
and other east Africa countries (ETR, EFP , ESD)
Point of sale systems for small businesses In Uganda
Are you looking for the best Best Point of Sale System (Pos System) in Uganda? Look no further as we have the best point of sale software for small businesses in Kampala- Uganda. We have both a web-based point of sales system and a desktop application system. We provide both hardware and software as per your need. Our Point of sales system can be used in various businesses like supermarkets, Pharmacy, Hardware, Retail and Wholesale Shops, etc.
Why Chose our Point Of sales (pos) systems
With our application, you are assured to save the time-consuming process of bookkeeping accounting and inventory information.
Also, you will have all the required information for a detailed analysis of your business.
Support all payments method Mobile Money, Cash, Credit, Cheque, and many more.
Support all hardware like Cash Drawer, Barcode Scanner,  Thermal Printer, ESD machine for V.A.T signature, Credit Card reader, etc.
For the web-based application, we have the app version available at a very affordable cost.
SMS functionality where every time a sales or payment is made a copy of the message is sent to the customer, owner, and accountant. So this helps in accountability and reduce loophole where your salespeople can steal from.
Usefull links
Components of a POS System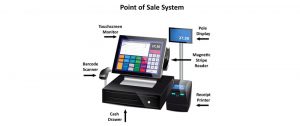 Point of Sale SystemHardware systems (POS Systems)
Below are the most common physical components required to get your (Pos System) up and running:-
Screen /Monitor: This displays the product database. And enables other functionalities, such as employee clock-in and viewing sales reports.
Barcode scanner: This is used to automate the checkout process. This gadget pulls product info and adds it to the checkout total. Most of the time they are integrated with inventory management systems. So that they can automatically adjust stock levels.
Credit card reader: With the advent of the EMV payment standards, secure and EMV-compliant credit card readers are a must-have. With the current Data Protection Act in existence in Uganda, you need to have secure systems to avoid any legal tussles and also be compliant.
Receipt printer: Email and text receipts may be gaining popularity, but paper receipts remain essential for providing customers with a quick snapshot of their purchase or returns.
Cash drawer: Even when the future for the Cash drawer seems bleak, cash is still king. Thus, you need a secure place to store cash for all transactions.
ESD Machine: For KRA signature on receipt
Credit: Nids
CONTACT US TODAY FOR MORE DETAILS (Pos System): 0705184142